The following is a potted history of Mickfield Hostas:
Pre-hostas
We haven't always grown hostas for a living - we used to be market gardeners...
A key event in our lives was the 1987 'Great Storm' that hit the south-east region of the UK in 1987. The following section revisits the damage caused to our newly erected polytunnels and shows in detail just how damaging our 'temperate' climate can occasionally be.
October 16th 1987
As morning came we could see the wind tearing at the polythene on the tunnels - it still was not safe to walk around outside due to flying debris, so these were a couple of hastily taken shots from the shelter of the bungalow...
... by mid morning the wind had died down and there was considerably less debris flying around. The sights were something to behold, we couldn't imagine the forces that had buckled the tunnel frameworks and displaced the steel legs that had been concreted into the ground: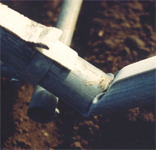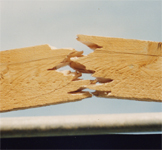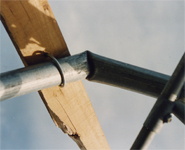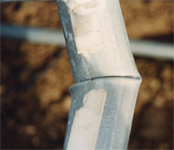 A subsequent assessment of the damage revealed that the wind had blown directly as a broadside into the southern-most tunnel. The wind had then funneled over the top of that tunnel and slammed into the next one with such force it was equivalent to that required to lift a jumbo jet. You can see the direction in which the framework has been forced - goodness knows where the polythene disappeared to!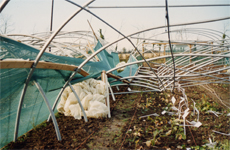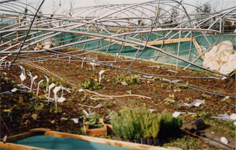 You can even see some of our hosta collection (as it was then) still in the ground with their labels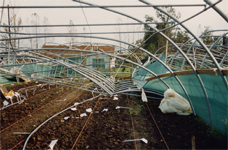 This damage lead to the eventual building of a huge collection tunnel that runs the length, and along the back of, the three polythene tunnels. Clad in netting, the collection tunnel is designed to act as a wind break whilst providing as close to a natural canopy as possible with man-made materials. Bringing our collection plants on in this tunnel means they will exhibit their characteristics as naturally as possible whilst being under cover.
Finished in 2005, the collection tunnel has had subsequent re-fits of benching to accommodate our rapidly growing collection. Every year we wonder how we will reorganise to fit in more varieties but we always seem to manage it!
1992: abandoning market gardening
Despite the damage caused by the storm in 1987 we managed to pull ourselves up and continued growing specialist fruit and vegetables for the market. We supplied a number of local grocers but most of our produce went into Covent Garden Market every week. The late 1980s was witnessing the start of supermarket dominance in the food market and everyone was feeling the pressure to cut margins. As a small, independent grower we were feeling the pinch. In 1992 our wholesaler at Covent Garden went into liquidation owing us a significant amount of money for goods already supplied. This was the second time it had happened and so we cut our losses with the Market Garden and decided to build the hosta business from what had largely been a hobby. In 1992 we set up selling our limited stock of hostas through small shows we travelled to, up and down the UK and Ireland.
1999: poisonous soil
In 1999 we bought in growing medium from our local supplier to do all our sales stock and pot on around £10,000.00 worth of new varieties we had imported from America. Within weeks it was obvious that there was something wrong with the growing medium as it seemed to be poisoning everything we potted with it. In fact, extensive laboratory tests concluded that the growing medium was indeed poisonous to plants and this was start of a four year battle for compensation that severely affected the time we could spend running the business. Although we were in the right, we didn't receive any damages and the protracted legal wrangling almost forced us under - a painful but very educational experience.
Fortunately we managed to secure sufficient supplies of sales stock to fulfill our show obligations otherwise the business would have folded. We have our dutch friend, Marco Fransen, to thank for helping us to continue trading and fulfil our show commitments for that year.
2006: the team grows
Melanie decided to join the family business and become a partner in 2006. Although she already supported the business through the creation and publication of the annual plant brochure and website, she had also worked with us around the nursery and at occasional shows. Melanie brings with her an enthusiasm for the business that we would struggle to find outside of the family. In addition, Melanie's husband, David, often helps out around the nursery. In 2006 we all went up to Edinburgh to do the Gardening Scotland Show and, as it was half term, our grandson Andrew came too. It was great to have three generations on the road.
2007: Plant Heritage (NCCPG)
In March 2007 our collection was designated a Plant Heritage (NCCPG) National Collection - see here for more details. This was a fabulous recognition for what we have already achieved and underlines that we are here to stay and grow our collection for many years to come.
2008: the Collection grows
By 2008 we had expanded our Collection so much that we needed to re-organise the collection tunnel and construct additional benching to keep the plants off the ground. This was a major task that took most of the winter but we now have the plants organised by size and have created a labelling system that allows the details of the plants to be seen even at the height of the season.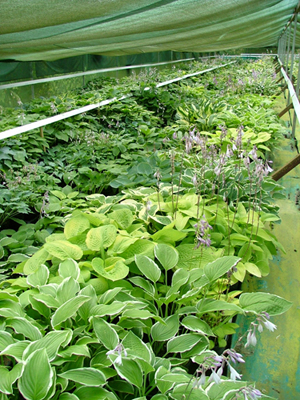 2009-2010: lots of hard work!
These two years were tough as the recession hit. We noticed a marked difference in attitude from customers visiting shows but we had decided, before the economy took a downturn, to get more involved with Plant Heritage at the major shows. Our aim was not only to support the organisation in their bid to gain more members but to help build awareness of our own National Collection. As a result we feel we benefitted from an increased appreciation of the fact that we plan to be here to stay and that we do know what we are talking about when it comes to the subject of hostas. However, our rapdily expanding collection now needs new accommodation, only 5 years since extending the tunnel!
2011: our first RHS Gold Medal(s)
What a turn-around from the previous two years as we finally started to reap the benefits of our hard work.
2011 saw our first RHS Gold Medal for our Marquee exhibit at the Malvern Spring Flower Show. It was followed up by another at Tatton. This was a fantastic boost for us and a final recognition of our efforts at the RHS shows.
Another important boost was having Roy join us for the shows this year. It was good for him to be able to catch up some familiar faces from when he used to do shows, in the early days of the business. He has also been invaluable as a prop designer/builder and mechanical enginner, helping Robin with essential maintenance around the nursery.

2012-2019
Rather brilliantly, things continued to do well, despite quite depressing economic times and Mel's husband, David, joined her on the show circuit in 2017, which enabled Roy to focus on the nursery.

November 28th 2019
A hugely sad day for us as Robin died following a sudden worsening of his dementia problems. Visitors to the nursery during the season would have noticed his frustration as his ability to communicate coherently had deteriorated. He was, however, still excited to show people around the nursery and talk about his beloved plants.
The December 2019 newsletter was devoted to Robin and can be viewed here.

So what now for Team Mickfield?
We carry on as usual - this is exactly what Robin would have wished and who are we to deny him that. We will continue to develop and move on with our micro-business - for regular updates subscribe to our free newsletter.