It is easy to get hold of these delicious plants from us...
Mail Order
This is our preferred method of selling our hostas, if you cannot pay a visit to the nursery, or make it to one of the shows/plant fairs we attend.
Call us on 01449 711576, or email us with your order so we can let you know quickly if the plants you want are available, how much postage and packing will cost, and to arrange delivery details.

NOTE: Please leave a message (including your contact number) if the phone isn't answered, we are often at work around the nursery and will get back to you asap.


Plant sizes
At the nursery, and at shows, we sell plants in 0.5 - 3 litre pots.
We can supply more mature plants but these will cost more depending upon the size and variety required
AND they will need to be ordered well in advance of requirement - see note on maturity below.
Images used on this website indicate more mature varieties. To achieve a similar impact simply order several
plants of each variety and then divide as they mature, which typically takes around 4-5 years.
We DO NOT send out plugs!


We send out the same size plants as we sell at the nursery, bare-rooted to save on postage costs. Every plant is hand chosen, inspected and packed to ensure it gets the best possible start in your garden - the images below show the key stages and if you would like to see it in action click on the movie clip image opposite:
| | | | | |
| --- | --- | --- | --- | --- |
| | | | | |
| We select the plants requested carefully, knowing that the root system is the most important element. | We remove the pot and soil so we can check the root system is as robust as possible for that variety. | We thoroughly wash the roots and remove any damage - it is like a spa treatment for the plant and encourages growth. | We wrap the roots in damp newspaper and tie the label to the plant before popping it into a plastic bag. | We then wrap the plants in more newspaper to minimise damage to the stems and leaves during transit. |
Placing an order
Email is the best method for placing your order with us, especially during the season when we are often on the road at the various UK horticultural shows.


Please include your full address details with your order. If you would rather we contact you for this information then let us have a daytime and/or evening contact telephone number to enable us to get
back to you as quickly as possible.


We accept payment by all major credit cards, except American Express.
If you wish to pay this way then please contact us directly (01449 711576) with your details.
We are also happy to take electonic payments, or you can collect from the nursery, whatever is more convenient for you.



All plants are offered subject to availability - some varieties are in very short supply. If you phone or email your order we can confirm the availability of the plants and quote the cost there and then. If you send us an order and pay by cheque then please make it open, ie: a signed cheque with the words 'Not to exceed
£ amount', written on it. That way we can deduct the cost of any plants we are unable to supply.



We normally dispatch weekly but we we can make special arrangements to suit you providing you give us sufficient notice. See our dispatch dates below


We will post your order once we have received your payment details so please make every effort to be accurate with your order as we cannot accept returns unless there is an issue with the quality of the
plant on receipt. If this is the case then please refer to our returns/complaints policy.


This does not affect your right to cancel an order placed with us. You have up to seven working days following the day of receipt of your order in which to cancel. However, as hostas are perishable goods we respectfully request that you take very good care of the plants and let us know as soon as possible that you wish to cancel. We can then arrange for the return of the goods and credit money paid.

Important note: visit our Customer information page for details about how we handle your information, etc.

We have an ever-growing list of highly satisfied customers who have successfully ordered plants from us and love to tell us of their joy at receiving such beautiful plants in this way. We could list a whole bunch of bouquets but feel you should experience our mail order for yourselves. Why not give it a go?

Our dispatch dates
Our local Post Office is operating restricted open times so we have modified our dispatch dates accordingly. We are now sending the bulk of our mail order out on Mondays and late requests on Wednesdays. Given the challenging workload
of the Post Office, this gives you more time to receive your plants before the weekend. However, don't worry if your parcel is a little late, hostas cope very well with being bare rooted for quite a while and we pack them with sufficient moisture to sustain them during transit.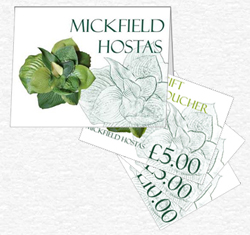 Gift Vouchers
Out of season, or when you cannot decide what to buy as a present, why not take advantage of our Gift Voucher service - find out more here.
Our pricing policy
Prices are updated at the start of each selling season and our prices depend upon the availability of current stock and the inclusion of new varieties. Our collection is ever expanding and new varieties are coming on-stream throughout the season as we are able to split successful parent stock.
As a general rule of thumb, prices range from £6.00* for the most common, easy to grow varieties up to ~£50.00 for new introductions, rare cultivars and varieties that prove more temperamental to grow into a plant we are happy will survive.
We no longer produce a catalogue of available varieties each spring because it is is out of date by the time the season starts - from 2016, the availability list on this website will contain the information in a printable format.
We reserve the right to change prices during the course of a season to reflect the value of the plant offered. For example, if we divide a parent plant and can offer a more mature example (usually only available from the nursery).

* We will be reluctantly raising some of our plant prices 2021 but, as our prices have been largely frozen for several years, we have been undercharging for a long time. Our plant prices will start at £6, as this is the base price for P&P.
Post and Packing
When supplying by mail order we pack plants bare rooted to keep postage costs reasonable - Hosta are one of the
few plants that will happily survive bare rooted for a few weeks.
Please let us know if you have any specific delivery notes to attach to the parcel if you may not be at home to receive it. It has been known for customers to disappear on holiday for a couple of weeks and return to find very sad looking plants on their doorstep.
We use Royal Mail first class post where possible to ensure minimum delay in getting your plants to you. The service gives us the flexibility with posting dates we need to help you get your plants when you want them, rather than sending out periodically to suit a carrier service. Unfortunately, the continued increase in prices for just about everything has meant we have had to increase our P&P charges, which still reflect the value of the order placed:
P&P
Please note: P&P costs not only reflect the face value of the postage charged by Royal Mail, it includes the cost of the packaging materials, the time it takes us to process the consignment, and the cost to get the parcel to our local Post Office. We actually subsidise the mail order service in order to try to remain competitive.

Orders up to £50: £7.00
Orders over £50 but under £125: £14.00
Orders over £125 delivered FREE
Tracking a parcel: £7.00
Once you have received your plants, pot them or plant them as you would normally.

Brexit and Plant Passports
We have made the difficult decision to no longer export outside of the UK after December 31st 2020.
In recent years we have experienced a few problems with the postal service, once parcels have left our shores, so the need to charge more to track these consignments is becoming ridiculous. To add to this situation we will need to issue plant certificates (in addition to passports) for every consignment, which is a costly and time consuming process we don't feel we can justify. Although we approve of the changes to importing and exporting plants, especially to mitigate the transmission of pests and diseases, we are not wholesalers and do not ship sufficient volume to warrant the additional costs to our business. If you have any questions please do get in touch.

Plant Passports: from EU to UK Plant Passports
In October 2016, the EU adopted Plant Health Regulation (EU) 2016/2031, which applied from 14 December 2019 to all EU member states, including the UK. As this regulation entered into force in 2016 it was carried over into UK legislation under the EU (Withdrawal) Act 2018.

Post transition all passports issued by UK nurseries will now be called UK Plant Passports and will no longer feature the EU flag. The data remains the same although technically we don't need to use the GB preface. More info here
Unfortunately, the guidelines for whether we do indeed need to issue plant passports for Hosta are ambiguous. Hosta are not considered plants at risk of being hosts to pests and diseases on the current list of harmful organisms (quite an interesting read).
Rather oddly, this regulation covers the sale of plants through mail order but not to plants we sell at a flower show or plant fair. Considering they are one and the same plants, this distinction is baffling. However, to avoid any potential problems, we are now registered to issue plant passports for mail order consignments of Hosta.
Our code is: GB 20630
From December 31st 2020 all our invoices will have a link to this information in the footer, as part of our trading policy.
Returns/complaints policy
If, for any reason, you are not satisfied with your order or have a complaint, then please let us know as soon as you
can so that we have the chance to rectify things.
We suggest that if you are not happy with your plants on receipt that you take photos of them, preferably using a digital camera. You can then email us with the details, including the images, and this will help us identify the problem and resolve it much more efficiently. We will make every effort to answer any reasonable complaints you might have, after all, we desire your custom and want you to have a good experience buying from us.

Your label is your proof of purchase if you buy from us at the nursery or a plant sale/show. Mail order customers will also have an invoice to refer to. There are a lot of hosta sellers out there, so we need to be sure you did actually buy from us before we are willing to replace or refund a plant purchase.
Non UK Customers
Due to the cost of postage and of obtaining the necessary plant health certification for import purposes, we do not send consignments outside of the UK. We apologise if this is disappointing but there are lots of excellent Hosta nurseries outside the UK and the fact that we are no longer exporting into the EU may see a few more wholesalers offer retail too.
British Hosta and Hemerocallis Society
Why not share your enthusiasm for hostas with others of a like mind by joining the British Hosta and Hemerocallis Society - click here to download the form.